Our Location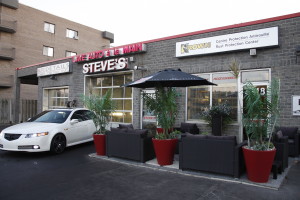 We take great pride in our location and the level of comfort we provide our clients.
Steve's Car Care has been conveniently located at 4216 St-John's Blvd for 30 years.
We can be reached by phone at (514) 696-9274, by email at [email protected] or using the easy contact form below.
In addition to taking care of your vehicle, at Steve's Car Care it is also our priority to take care of you, the customer. Experience the relaxation, comfort, and convenience we offer:
Comfortable A/C lounge waiting area
Outdoor patio
Client CPU workstation
Complimentary WIFI
Widescreen HDTV
Refreshment and snack bar
Product and novelties boutique
Wide variety car air fresheners
Papyrus greeting cards
Relax and enjoy your stay while enjoying one of our speciality coffee choices:
Regular coffee
Espresso
Cappuccino
Latte
When your car is ready, we let you know and you are on your way…
Send us a message